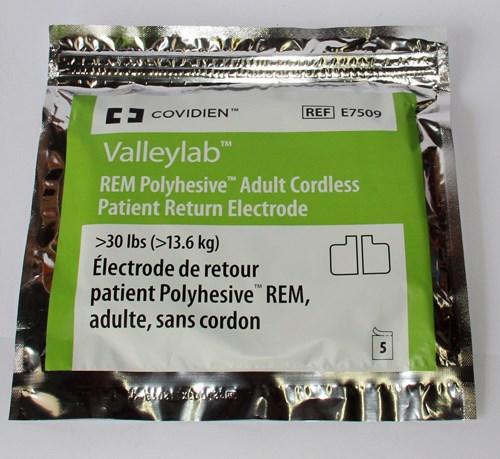 Valleylab Diathermy Plates Adult - Ctn/50
Code: VLE7509
Supplier Part: E7509
Unit: ctn
Valleylab™ REM Polyhesive™ Adult Cordless Patient Return Electrode
For patients > 30 lbs (> 13.6 kg)
For use with RECQM generators
Requires E0560 reusable cord/clamp
Latex free
Covidien patient return electrodes are recognized worldwide for quality, safety, and innovative technology. All return electrodes are manufactured with Covidien's patented PolyHesive™ II high moisture, conductive adhesive hydrogel that provides the performance of a gel without the gel mess.
PolyHesive™ II Hydrogel Benefits
Water-based hydrogel lowers skin resistance.
Unique elongation fills patient skin irregularities and minimizes contact voids to improve the total electrical conduction area.
Electrode Benefits
Surface area disperses current over large area, minimizing heat buildup.
Acrylic adhesive improves pad contact quality and provides a moisture barrier to significantly reduce the potential for fluid invasion.
Adult, infant (<30 lb.), and neonatal (<6 lb.) sizes available.
Non-irritating* and non-sensitizing*
REM™ Contact Quality Monitoring System
The exclusive Covidien REM™ system monitors patient impedance levels, automatically deactivating the generator if a fault at the patient return electrode is detected.
REM™ is an integral part of the Covidien Full Circuit™ system standardization program.
Proven safe in more than 100 million procedures.
Request further information on this product
Newsletter
Please enter your email address to subscribe to our newsletters.