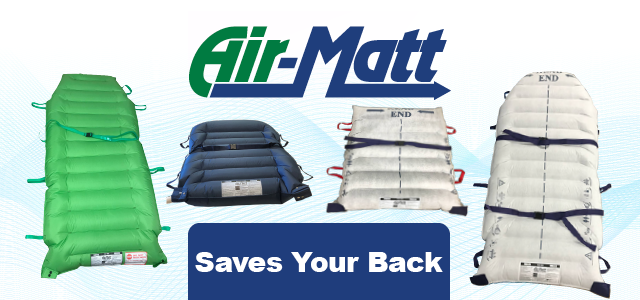 Air-Matt Transfer Mattresses are designed to assist with patient lateral transfers and repositioning within the hospital, long term care facilities or at home. They come as either a reusable or a single patient use (SPU) disposable transfer mattress.
How Does it Work?
An Air-Matt Transfer Mattress moves a patient on a soft nylon air mattress inflated with low pressure, high volume air. Holes in the underside allow air to escape. The escaping air acts as a lubricant, reducing friction , making movement of the mattress and the patient effortless.
The Purpose
Less physical effort and strain reduces healthcare worker injuries, predominantly the back injuries associated with lateral transfers and patient repositioning. Fewer injuries equate to fewer workers compensation claims, fewer insurance claims, less time lost to injuries, less light duty assignments and increased healthcare workers job satisfaction. Additionally, Air-Matt Transfer Mattress reduces patient physical movement that often leads to pain and discomfort. It supports the patient safely and results in a smooth, secure, transfer, enhancing patient satisfaction.
There is no Latex used in the construction in any Air-Matt products.
They are X-ray and MRI compatible.
Newsletter
Please enter your email address to subscribe to our newsletters.