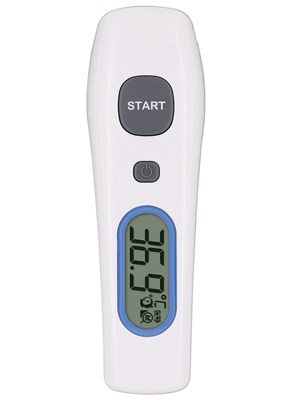 No Touch Infrared Non-Contact Digital Forehead Thermometer
Code: 224146
Supplier Part: 224146
Unit: each
No Touch Infrared Non-Contact Digital Forehead Thermometer
Key Features:
Dual LED dots for the right measuring distance
Distance within 4cm for accurate measurement
One second Measurement
Non-Contact digital thermometer for hygiene and comfort
Surface Mode
Fever Alarm & Mute Function
Blue LED Back light (THD2FE)
Thermometer has a large LCD for easy reading
25 Memories
°C/°F Switchable
Temperature measurement range
Forehead mode: 34~42.2°C (93.2~108°F)
Surface mode: -22~80°C (-7.6~176°F)
Operating temperature range: 10~40°C (50~104°F), 15%~85% RH
Storage temperature range: It should be stored at room temperature between -20~+50°C ,RH≦85%
Specifications:
Transportation temperature shall be less than 70°C,
RH≦95%
Atmospheric pressure: 800~1013 hPa
Comply with ASTM E1965-98, EN ISO 80601-2-56, IEC/
EN60601-1-2(EMC),
IEC/EN60601-1(Safety) standards, ISO10993, RoHS.
Accuracy:
Forehead mode: ±0.2 oC (0.4 oF) within 35~42°C
(95~107.6°F), ±0.3 oC (0.5 oF) for other range.
Surface mode: ±0.3°C (0.5°F) within 22~42.2°C
(71.6~108°F), others ±4% or ±2°C (4°F) whichever is
greater
Fever alarm, memory and °C/°F switch function
Battery: AAA x 2 pcs
Battery life: around 3,000 continuous readings.
Warranty: 12 months
This thermometer converts the forehead temperature to display its "oral equivalent." (according to the result of the clinical evaluation to get the off set value)
Enclosure Rating:IP22
Dimensions: 158.0 x 48.0 x 40.2 mm Weight: 100 grams including battery
The device should not submerge into any liquids and expose it to direct moisture.
There is no gender and age limitation for using the infrared thermometer.
This is not an APor APG product
UOM: Each
Image is sample of product
Request further information on this product
Newsletter
Please enter your email address to subscribe to our newsletters.