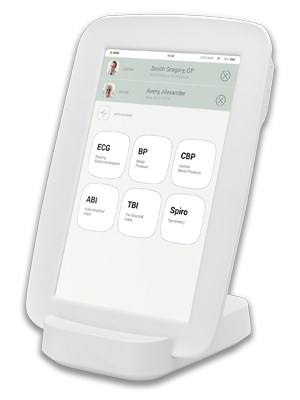 MESI mTABLET Wireless Medical Tablet System
Code: MTABSYSW
Supplier Part: MTABSYSW (ECG APP)
Unit: each
Prices shown are exclusive of GST
The MESI mTABLET is a dedicated medical tablet with an intuitive user interface and compliant with the strictest security standards. The MESI mTABLET is a handheld medical grade tablet with a docking station that includes an access point. It is a mobile computing platform designed for use within healthcare facilities.
The MESI mTABLET is designed to connect patients, measurements, medical applications, and medical personnel within one ecosystem.
The MESI mTABLET can be used either as a standalone tablet with a variety of different medical software or with MESI diagnostic modules. It is designed specifically by medical personnel in a clinical environment for patient care where it improves work efficiency. 10.1″ tablet features antimicrobial enclosure, full slot smart card, SD card readers, RFID reader, back camera and a barcode scanner.
Key Features and Benefits:
Automatic storage of diagnostic results to MESI mRECORDS web platform and your EMR
Designed to manage MESI mTABLET diagnostic modules, patient history and run essential medical applications
Sharing results for the instant second opinion
Workgroup environment with multiple user accounts
Result printout available with the existing office printers
Request further information on this product
Newsletter
Please enter your email address to subscribe to our newsletters.