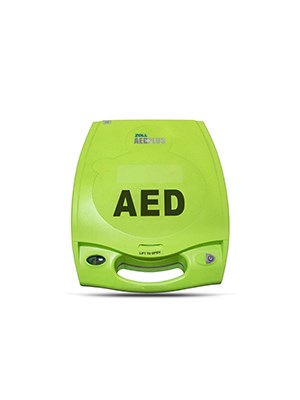 Zoll AED Plus Defibrillator
Code: 4900100
Supplier Part: 20100000102011050
Unit: each
Buy In Item
The Zoll AED Plus Defibrillator coaches you quickly and simply through every important step of the rescue process. Only the AED Plus with its exclusive, one-piece electrode can measure the depth and rate of chest compressions during CPR.
It immediately tells rescuers how well compressions are being performed. With visual and audible prompts that deliver instantaneous feedback, the AED Plus ensures rescuers can perform the most effective CPR.
Supports the entire chain of survival with easy-to-understand audio prompts and visual icons
Real CPR Help® with instant feedback on the rate and depth of chest compressions during CPR
Uses off-the-shelf lithium batteries (Duracell 123a) with up to 5 years battery life
Easy-to-place, one-piece electrode - CPR-D-padz® with a 5 year shelf life
5 year warranty as standard (7 years with warranty card upon registration)
Rugged design that resists dust and water (IP55 rating)
Intelligent paediatric capability with optional Pedi-padz II® electrodes
Resuscitation Council (UK), European Resuscitation Council (ERC) and American Heart Association (AHA) Guidelines 2010 compliant
Automatic self-testing assures constant state of readiness
Supplied with a graphical user interface with 8 illuminated picture prompts, an LCD screen showing voice prompts, device advisory messages, elapsed time, shock count and chest compression graph display. Configurable to display ECG. Supplied with passive airway support lid, soft case, batteries, CPR-D electrode with First Responder Kit, operator's guide and a 7 year warranty. Instructional training DVD also included.
Request further information on this product
Newsletter
Please enter your email address to subscribe to our newsletters.