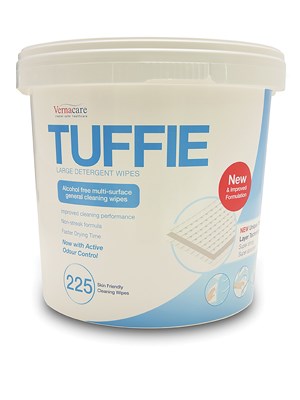 Tuffie Alcohol Free Detergent Wipes Tub/225
Code: 901DW225
Supplier Part: 901DW225
Unit: tub
Bulk Unit: 4 per ctn
Prices shown are exclusive of GST
Tuffie Detergent Wipes are perfect for using anywhere where general cleanliness is required quickly and conveniently. They form an integral part of Infection Control practices for any Hospital, Aged Care or General Practice Facility. The need for cleaning is imperative and Tuffie Wipes are a simple, effective way of removing dirt and grime. The various presentations of the product means there is a solution for all your cleaning needs.
Alcohol free
Can be used for cleaning equipment between patients
Low foaming surfactant eliminates need for a drying cloth
Lift soiling without leaving residue
More convenient and hygienic than bowls of soap and water
Can be more cost effective than reusable cloths
Ideal for removing dirt, grease and organic matter from lockers,
mattresses, bed tables, beds and commodes
Neutral detergent is not harmful to skin
Will not damage surfaces - can be used on anything where detergent is normally used
Prevent wastage of detergent and ensure correct concentrations are always used
Do not dry like alcohol wipes
Packaged in handy size resealable 100 wipe flat pack, 100 canister or tub of 225 wipes
Bracket available for wall mounting tubs
Request further information on this product
Newsletter
Please enter your email address to subscribe to our newsletters.