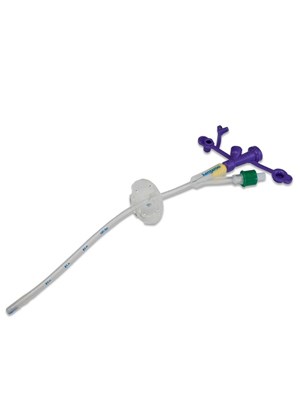 GASTROSTOMY FEED TUBE W/ Y-PORT 18FR
Code: CAD4720189
Supplier Part: 8884720189
Unit: each
GASTROSTOMY FEED TUBE W/ Y-PORT 18FR
Constructed of a durable silicone allowing for longevity and optimal performance, these Y-Port gastrostomy feeding tubes come with safe enteral connection feeding ports. The Y-Ports are replaceable allowing caregivers to change ports instead of replacing the entire tube which results in saving for the patient. These feeding ports are not compatible with IV connections or Luer-Lock. This safety feature significantly reduces the risk of infusion and accidental connections. While reducing risks the safe enteral connections also address the 2006 JCAHO Tubing Misconnection Sentinel Event Alert.
French Size: 18 Fr.
Balloon Size: 20 cc
Dual port enteral connector engineered to reduce risk of tubing misconnections
Addresses 2006 JCAHO Tubing Misconnections Sentinel Event Alert
Purple color to denote enteral feeding -- oral/cath tip syringe only
Medical-grade silicone tubing
Rounded skin disc for external retention with feet
Graduated shaft
Gastric balloon for internal retention
Rounded flush tip with open distal end
DEHP-Free
Request further information on this product
Newsletter
Please enter your email address to subscribe to our newsletters.