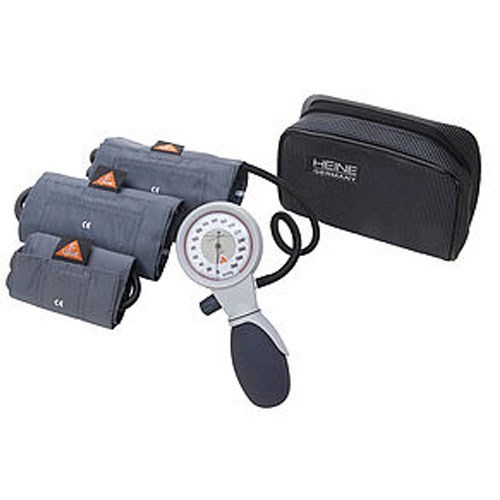 HEINE GAMMA G5 Sphygmomanometer Practice Kit
Code: HEA0009555
Supplier Part: M-000.09.555
Unit: each
The HEINE GAMMA G5 sphygmomanometer practice kit is latex-free and shockproof. The pressure-proof manometer ensures durability and reliability.
The practice kit includes:
1x Child Cuff
1x Adult Cuff
1x Small Adult Cuff
1 x Zipper Pouch
The core of the GAMMA G5 is the quality and durability of the housing and spoon made of strong, impactresistant 2-component thermoplastic. The integration of an intricate shock-absorbing system protects the manometer.
The extra large insufflation bulb is comfortable to hold, enabling fast inflation of the cuff.
Latex-Free
Shockproof
Exclusive Pressure-Distribution System allows swift and precise readings and ensures a long manometer life.
Pressure-Proof Manometer: Ensures durability and reliability. Corrosion-free.
Micro-Filter: Protects valve and manometer.
Large Diameter Scale: (56 mm) is easy to read.
Large Insufflation Bulb: 50 % larger bulb volume for fast inflation of the cuff.
Precision Air-Release Valve: Provides fine and precise air-release rate adjustment, quick deflation, and extreme durability. A rubber-stop prevents valve-lock.
Housing is moulded of shockproof plastic with shock-absorbing, anti-slip coating.
Adjustable Spoon (Polyamid Thermo Plastic): For both right- or left-handed operation.
High quality, Single-Tube Cuff with Velcro Fastener. Washable.
5 Year Warranty against defects in design, materials and workmanship for a period of 5 years from the date of purchase.
Request further information on this product
Newsletter
Please enter your email address to subscribe to our newsletters.