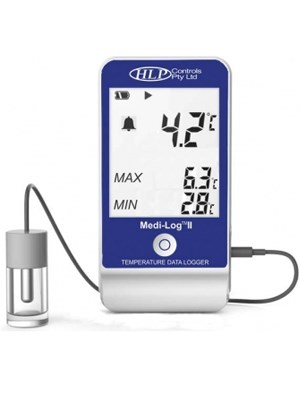 MEDI-LOG II FRIDGE THERMOMETER
Code: HLMEDILOG2
Supplier Part: MEDI-LOG II
Unit: each
Data-logger with one button control.
The Medi-Log II is specifically designed to monitor and display fridge storage temperatures. The unit will display the temperature inside the fridge, the minimum & maximum temperatures and the alarm status on the main screen.
An audible beeper will sound should the alarm set-points be exceeded. The unit comes already set up with vaccine storage high and low alarm set points as well as Department of Health recording interval requirements. Easy to use free software allows the history to be seen as well a graphing functions.
Special Features:
Alarm set-points are automatically set by default to low 2°C and high of 8°C when the unit is first powered (these can be changed if required).
Main screen shows MIN (minimum) and MAX (maximum) temperatures plus current (ambient) temperature.
All alarms are shown on main screen.
Start delay is set at a default of 30 minutes (this can be changed if required, anywhere from Oto 6 hours).
One button to control all screens and functions.
Temp range: - 40° C to +85°C
Probe: Thermocouple on 2.5 met cable
Accuracy: Between -20~+40° C ± 0.5°C
Alarms: Audible and onscreen
Data logging: 16,000 point capacity
Specifications:
UOM: Each
Image is sample of product
Request further information on this product
Newsletter
Please enter your email address to subscribe to our newsletters.