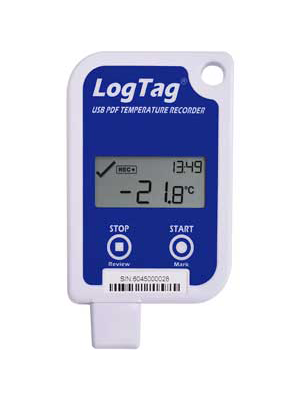 LogTag® Premium USB Logger with Display
Code: LOGUSB16
Supplier Part: LOGDISPUSB
Unit: each
The LogTag with built-in USB connection plugs directly into your computer – no separate Reader is required.
Ideal for vaccine fridges, food fridges and freezers, and cold chain transport monitoring.
Features and Benefits:
Stand-alone USB logger with all the features

LCD display
Replaceable battery

No reader required
Specifications:
Product Model: UTRID-16
Size: 93mm(H) x 54.5mm(W) x 8.6mm(T) including protective USB cap.
Weight: 39g.
Case Material: Polycarbonate.
Sensor Measurement Range: -30°C to +60°C (-22°F to +140°F)
Operating Temperature Range: -30°C to +60°C (-22°F to +140°F)
Storage Temperature Range: 0°C to +40°C (32°F to +104°F)
Rated Temperature: Better than ±0.5°C (±0.9°F) for -20°C to +40°C (-4°F to +104°F). Better than ±0.7°C (±1.3°F) for -25°C to -20°C (-13°F to -4°F) & +40°C to +60°C (+104°F to +140°F). Better than ±0.8°C (±1.5°F) for +60°C to +70°C (+140°F to +158°F).
Rated Temperature Reading Resolution: 0.1°C/F
Sensor Reaction Time Typically less than 7 minutes (T90) in moving air (1m/s) in EN12830:1999.
Recording Capacity: 16,129 temperature readings. 56 days @ 5min logging, 168 days @ 15min logging.
Sampling Interval: Configurable from 30 seconds to 18 hours.
Logging Start Options: Push button start (with configurable start delay from 1 minute to 72 hours) or specific date & time.
Recording Indication: "REC" symbol on LCD
Download Time: Typically with full memory (16,129 readings) in less than 30 seconds from time of insertion to availability of PDF report. Typically less than 10 seconds from time of insertion to availability of LTD file in LogTag®Analyzer (if configured).
Environmental: IEC 60529: IP64 with USB cap fitted.
Connection Interface: USB 2.0, A-type plug
Power Source: CR2032 3V LiMnO2 Battery (Replaceable).
Battery Life: 1 year storage, 1 year of normal use (based on 15 minute logging, download data monthly). The battery low symbol will appear on the LCD if the UTRID-16 has a low battery.
Real Time Clock: Built-in real time clock. Rated accuracy ±25ppm @ 25°C (equivalent to 2.5 seconds/day). Rated temperature coefficient is -0.034 ±0.006ppm/°C (I.e typically +/- 0.00294 seconds/day/°C).
Software: PDF Reader, LogTag® Analyzer 2.8 or higher
UOM: Each
Image is sample of product
Request further information on this product
Newsletter
Please enter your email address to subscribe to our newsletters.