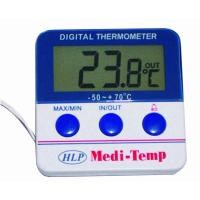 Fridge Freezer Display Thermometer
Code: HLT009
Supplier Part: MEDI-TEMP
Unit: each
Medi Temp: Digital thermometer, In / Out & Min / Max, with sensor on a 3 meter cable.

This unit has 2 temperature sensors. With the In / Out sensors, 2 areas or 2 fridges or a fridge and a freezer can be checked at the same time.
The Min / Max memory lets you check the temperatures that the unit (eg: the fridge) has risen to since last read.
1 inbuilt inside the unit and another sensor on a 3 meter wire.
Use the remote wire sensor to monitor fridges or freezers.
Inbuilt alarms that can tell you that the temp limits are exceeded.
Inbuilt Memory so that you can see what the temperature got up to and down to during the weekend or overnight.

Wide temperature measuring range:
Inbuit sensor range measures from: -10 up to +50C
Outer sensor (on the end of the cable) measures temperatures from -50 C up to +70C.
With magnetic and velcro mounting.
The remote sensor has a sticky mount, suction cap and screw down mount inc.
Battery powered - Immune to power outs!
Request further information on this product
Newsletter
Please enter your email address to subscribe to our newsletters.