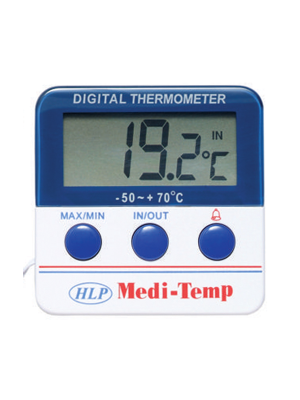 Medi-Temp Fridge and Freezer Display Thermometer
Code: HLT009
Supplier Part: MEDI-TEMP
Unit: each
The Medi-Temp Fridge and Freezer Display Thermometer is a very versatile temperature reading device, with 2 sensors that can read internal and external temperature. This allows multi-use, where the temperature of two fridges, or the inside of one fridge and room temperature can be read simultaneously. A remote sensor is included to monitor both temperatures.
Features & Benefits:
The The Medi-Temp Fridge and Freezer Display Thermometer features inbuilt alarms that notify the user when temperature limits are exceeded, ensuring consistency in the workplace. There is also a minimum and maximum memory, to see where the temperature reaches when unattended (such as overnight). The inbuilt sensor reads a range of -10°C up to +50°C, where the external sensor reads from -50°C up to +70°C. The main unit has a magnetic and velcro mount, and the remote sensor has a sticky mount, suction cap and screw down mount for security. The unit is battery-powered.
Specifications:
Brand: HLP
Product: Medi-Temp Fridge and Freezer Display Thermometer (MEDI-TEMP)
Uses AAA batteries
Cable length: 2m
Size: 63 x 63 x 14mm
Digital display: 20 x 45mm
UOM: Each
Image is sample of product
Request further information on this product
Newsletter
Please enter your email address to subscribe to our newsletters.