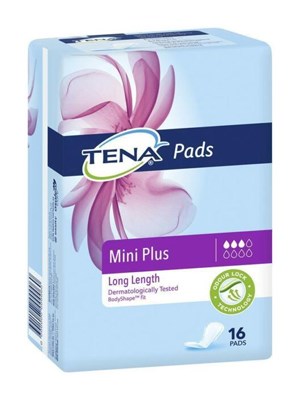 TENA LADY MINI PLUS - Ctn/16
Code: BW2309661
Supplier Part: 2309661
Unit: ctn
TENA LADY MINI PLUS
UoM - Ctn/16
TENA Pads Mini Plus
Slightly more absorbent than the Ultra Thin Mini & still just as thin as an ultra thin period pad. Ideal for people experiencing slight bladder weakness.
Product detail
Shaped like a long period pad for an improved anatomical fit, TENA Pads Mini Plus now provides an extra feeling of security and comfort. It features our unique Lock Away Core™ and is perfect for those who have occasional leakage and need maximum security for the whole day. Plus there's also the feel good freshness of TENA Odour Control™.
Features and Benefits:
- QuickDry Topsheet provides quick absorption and locks the liquid away giving superior dryness.
- Odour Control™ reduces the risk of odour for freshness and discretion.
- Textile-like surface next to your body.
- Body Shape for excellent body fit
- Single wrapped for your convenience
Additional Information:
- Individually wrapped light pads for your convenience.
- Available in a pack count of 16.
- Available in supermarkets and pharmacies.

Request further information on this product
Newsletter
Please enter your email address to subscribe to our newsletters.