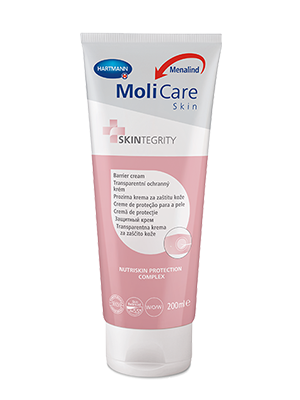 MoliCare® Skin Barrier Cream 200mL - Box/12
Code: 44995026
Supplier Part: 995086
Unit: ctn
MoliCare® Skin Barrier Cream is a zinc oxide-free cream that creates a protective film on the skin to protect users who suffer from incontinence. Along with protecting the skin in the genital area, the cream has a pH of 5.5, which helps maintain the skin's acid mantle and natural protective layer. The cream also contains the Nutriskin Protection Complex, designed to strengthen the skin's barrier and regeneration function.
Specifications:
Brand: HARTMANN
Product: MoliCare® Skin Barrier Cream 200mL (995086)
Flip-top lotion bottle has a capacity of 200mL
Unit of measure is a carton of 12 bottles (12x200mL bottles)
Image is sample of product
Request further information on this product
Newsletter
Please enter your email address to subscribe to our newsletters.