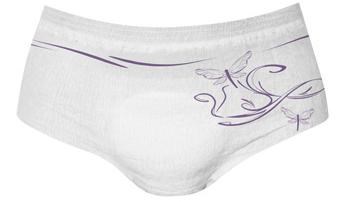 TENA Women Discreet Protective Underwear (M) - Ctn/3
Code: BW795205
Supplier Part: 796210/795205
Unit: ctn
TENA Women Discreet Protective Underwear is made of a revolutionary soft, stretchy fabric, combining a pad and underwear in one. The highly absorbent pant provides breathable comfort and security for everyday life.
TENA Women Discreet Key Features:
Fresh Odour Control helps prevent unwanted odour
TENA Women Protective Underwear has Fresh Odour Control. It helps prevent the formation of unwanted odour, leaving the individual feeling fresh.
Discreet protection with a feminine design
TENA Women Protective Underwear has an elegant feminine design. The cotton-like material looks and feels like regular underwear, yet provides complete confidence and security.
Just like underwear
Thanks to a revolutionary cotton-like soft fabric TENA Women Protective Underwear's body contoured shape are similar to regular underwear. They provide a breathable and discreet fit.
A highly absorbent pant
TENA Women Protective Underwear is a highly absorbent soft textile-like incontinence pant, providing the individual with high leakage security.
Tear-away side seams for easy removal
TENA Underwear is as easy to pull on as it is to pull off. Just tear open the side seam on one or both sides and that is it, they are ready to dispose of.
Specifications:
UOM: Ctn/3
Size: Medium
Fits Waist Size: 95cm to 125cm
Request further information on this product
Newsletter
Please enter your email address to subscribe to our newsletters.