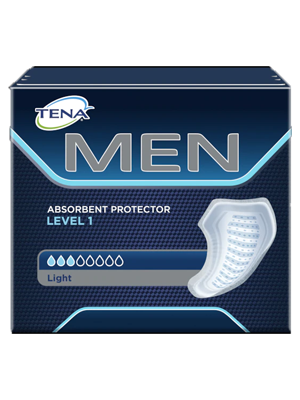 TENA® Men Absorbent Protector Level 1 Blue - Ctn/4
Code: BW750658
Supplier Part: 750658
Unit: ctn
TENA Men Absorbent Protector Level 1 offers men of all ages effective control over light urine leakage, and light incontinence. It features a new boosted Secure Absorption Zone that effectively deals with leaks, odours and moisture as well as a new thinner and discreet, masculine design that allows the pad to sit securely in the underwear.
Helps men stay in control, feel confident and enjoy improved quality of life with TENA Men Absorbent Protector Level 1.
Features and Benefits:
Boosted Secure absorption zone - Keeps you dry and protects against leaks thanks to boosted secure zone that locks in liquid efficiently.
100% discreet - Discreet with thin and light design.
Specially engineered for a man's body - New masculine outer contour shape, soft side elastics creating a snug and secure fit and a cup shape making the protector discreet and comfortable to wear.
Adhesive fixation strip - Holds the protector in place so it fits securely and discreetly in the underwear
Odour control - Helps to prevent unwanted smells.
Individually wrapped - Masculine coloured design enables discreet carrying and disposal.
Dermatologically tested - Material that is kind on the skin.
Specifications:
Brand: TENA®
Level 1
Absorbency value 3
UOM: Carton of 4 (12 pieces per pack)
Image is sample of product
Request further information on this product
Newsletter
Please enter your email address to subscribe to our newsletters.