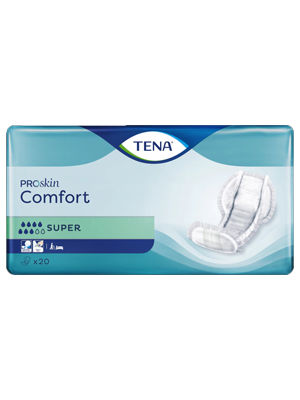 TENA® Comfort Super Incontinence Pad Absorbency Level 7 - Ctn/4
Code: BW58974
Supplier Part: 2311293
Unit: ctn
TENA Comfort Super is a comfortable bowl-shaped incontinence pad for people who require a high absorbency incontinence product and wish to continue using pads.
The unique bowl-shape provides leakage security and close body fit. The product quickly draws the liquid away from the surface, keeping the skin dry. The fast absorbing core then rapidly locks in urine, even in larger quantities for dryness and the fully breathable back-sheet allows skin to breathe. All these features help to maintain natural skin health.
This trusted incontinence pad is held in place with TENA Fix reusable fixation pants. TENA ProSkin Comfort can be put on when standing up or lying down and is easy to fit and change. TENA ProSkin Comfort are available in different levels of absorbency.
Features & Benefits:
Triple Protection for Skin Health
Triple Protection for dryness, softness and leakage security to help maintain natural skin health.
FeelDry Advanced™
The topsheet and distribution layer draws liquid away from the surface, keeping the skin dry.
Unique bowl-shape for comfort and leakage security
TENA ProSkin Comfort has an all-round barrier that creates a bowl-shape for a close body fit. This leads to improved comfort and ensures leakage protection.
To be worn with TENA Fixation pants for body-close fit
The usage with TENA fixation pants ensures comfort and leakage protection.
Breathable materials
Textile like, breathable materials that allow air to circulate for skin health and comfort.
Accredited by Skin Health Alliance
The Skin Health Alliance accredits all TENA ProSkin products so you can be sure they are always skin-friendly. The accreditation gives you peace of mind that independent skin health experts have verified the products as skin safe.
Wetness indicator
The wetness indicator on the outside of the incontinence product turns from yellow to blue when it is time to change.
Dermatologically tested
TENA ProSkin products are evidence based and dermatologically tested to ensure their effectiveness and gentleness.
Odour Neutralizer
Neutralizes odours instantly and continuously.
Specifications:
Brand: TENA®
Colour: Green
Absorbency level: 7
Size: SUPER | Large shaped incontinence pad
UOM: Carton of 4 (20 pieces in each pack).
Image is sample of product
Request further information on this product
Newsletter
Please enter your email address to subscribe to our newsletters.