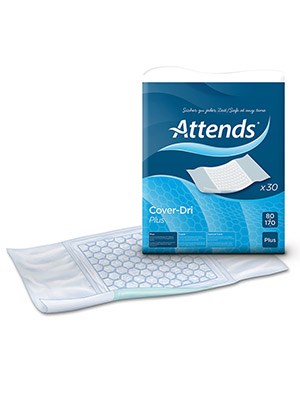 Attends® Cover-Dri Plus, Protective Underpad, 80x170cm - Pkt/30
Code: 23310106
Supplier Part: 31691
Unit: Pk 30
Bulk Unit: 4 per ctn
products that can be used for light to moderate urinary incontinence. The Attends Cover-Dri Plus underpads can be used by anyone wanting to protect beds, chairs and wheelchairs from leakages. The Cover-Dri Plus pads can also be used for clinical procedures where non-sterile containment is required.
Features and Benefits
Attends® Cover-Dri Plus is a protective underpad to be used for light to moderate urinary incontinence. The absorbent hexagon pads on the sheet distribute wetness quickly and evenly, absorbing liquid and preventing mess. The Cover-Dri Plus range features a discrete, coloured, non-slip, waterproof back sheet to ensure the underpad remains in place. The individual absorbent cushions quickly absorb fluid, whilst drainage channels rapidly distribute the fluid without pool and the all-round leakage barrier reduces the risk of leakage.
Specifications:
Brand: Attends®
Product: Attends® Cover-Dri Plus, 80x170cm (23310106)
Size: 80 x 170 cm
Feature: Non-slip & Waterproof back sheet
Topsheet Material: Nonwoven
Backsheet: Polyethylene
Absorption Core Material: Fluff and Superabsorbents
Odour protection: Natural Odour Protection
Feature: Tuckable Wings
Unit of measurement: Packet of 30
Image is a sample of product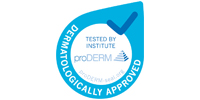 Request further information on this product
Newsletter
Please enter your email address to subscribe to our newsletters.