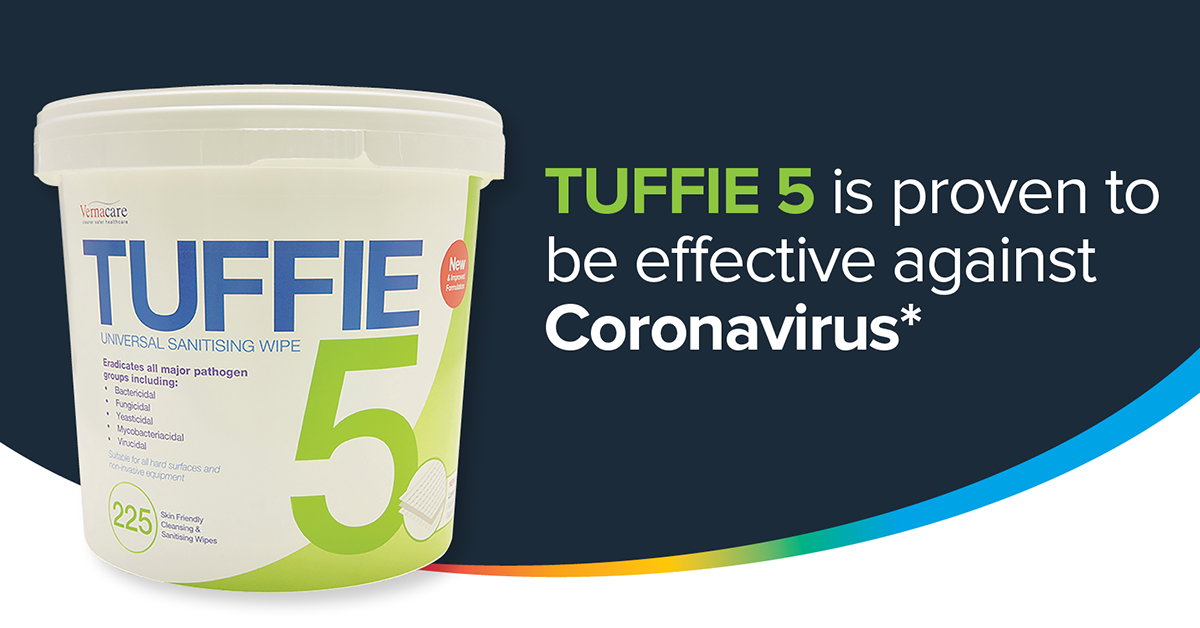 Tuffie 5 Universal Sanitising and Disinfectant Wipes
Tuffie 5 Universal Sanitising Wipes are powerful alcohol and chlorine-free wipes, ideal for cleaning and disinfecting all non-porous surfaces and and non-invasive equipment.
Surface cleaning & disinfection is one of the most effective ways to stop the spread of infection. Various studies have shown that contaminated surfaces are an established route of transmission for high-risk pathogens.1
The Tuffie range of wipes offers a full product portfolio for effective cleaning & disinfection which includes the Tuffie 5 Universal Wipes.
Tuffie 5 is effective on a broad range of pathogens including MRSA, E. Coli, Norovirus and Coronavirus.
The Importance of Effective Surface Cleaning & Disinfection
The COVID-19 pandemic has reinforced why it is so important to practice good hygiene and ensure surfaces, particularly those that are classed as 'high-risk', are cleaned and disinfected frequently.
We recommend the following areas be cleaned regularly to help stop the spread of COVID-19 and other harmful viruses:
Bed Frames, Rails and IV Poles
Door Handles and Push Plates
Light Switches, Handles, Buttons and Dials
Benefits of Tuffie 5 Sanitising Wipes
A breakthrough in non-woven technology
All Tuffie wipes feature a new and improved triple layered fabric with, emboss pockets and a microfiber core which absorbs and traps surface soils and holds onto bacteria and bio-film to prevent cross-contamination.
The triple layered construction gives strength, softness, absorbency and is non-linting.
Outstanding performance and choice
Cleans and sanitises all hard surfaces and non-invasive equipment. Tuffie 5 wipes are packaged in standard 225-wipe buckets, 150-wipe flexible canisters and dispenser refill packs.
Did You Know?
Study finds there are over 93 contact episodes
per hour between patients, staff and visitors,
demonstrating the potential for cross-infection.2
Newsletter
Please enter your email address to subscribe to our newsletters.